Help us dynamically transform the way child placement decisions are made in the United States family welfare system. Our mission succeeds because of partners who are also committed to providing a loving family for each waiting child. Join those who help us enable belonging through stable placements.
Meet Our Building Partners
Building and maintaining innovative web-based applications as a non-profit is not for the faint of heart! Adoption-Share is so grateful to be the recipient of a wealth of knowledge and expertise from the brightest minds and institutions in the world.

Alithya Group Inc. is a North American company specializing in digital strategy and technologies. Alithya is the second largest company in its industry in Canada, with a turnover of $260,000,000 USD. The company employs over 2,000 people in Canada, the United States, and Europe. In 2019 Adoption-Share partnered with Alithya for a three-year term to build and assist with maintaining—at no cost—a front-end application for Family-Match. This application is designed to more efficiently and appropriately optimize families who are just getting started on their adoption or foster journey. In a six-month pilot, we were able to increase the completion rate of families ideantified through our application by 75%, enabling them to finish their home study and licensing process! We are so grateful for Alithya Group's support.

Capital One is on a mission to bring humanity, ingenuity, and simplicity to banking. In support of this mission, the Capital One Impact Initiative advances socioeconomic mobility by advocating for an inclusive society, building thriving communities and creating financial tools that enrich lives. Associates have been supporting Adoption-Share's Family-Match program with pro bono expertise in User Design Interface (UIx) and Data Architecture/Scale, among other areas. We are so grateful for the talent and expertise of the team Capital One has put in place to help us improve and maintain our mission.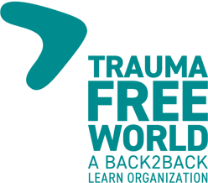 Trauma Free World is a community dedicated to helping people around the world heal from childhood trauma. Headquartered in Cincinnati, Ohio, Trauma Free World offers training all around the world, as well as online for anyone with an internet connection or mobile phone. Trauma Free World partners with leading trauma researchers to adapt cutting edge trauma research into training that is accessible to all, regardless of literacy level, and applicable across cultures. Thanks to their support, Adoption-Share is able to provide access to Trauma Free World's 75-minute overview of trauma-informed care to every prospective foster and adoptive parent who makes their way through our new recruitment portal at no cost. Hundreds of foster and adoptive families have been trained!
Individuals and Foundations
Malinda and Gordon Mortin
Mark and Laura Pflug
Selfless Love Foundation
Accelerators
Gifts of $50,000+
St. Mary's United Methodist Church Foundation
Adam and Jenny Wainwright
LeoDelle Lassiter Jolley Foundation
Sustainers
Gifts of $10,000+
Jeb and Stephanie Stewart
Fran and Russell Smith
Michael and Rachel Thompson
Dr. Beau and Lisa Sasser
Dandridge Family Foundation
The Generosity Trust—Maclellan Foundation
Johnathan and Meredith Roberts
St. Simons Community Church
John and Lou Crouch
The Anschutz Foundation
Children's Home Society of North Carolina
Doug and Andrea Edwards Foundation
James and Donnat Brittsan
George Olschig
Jason Cashwell
Jason Dandridge
Rev. Mark and Cindi Sholander
Dr. Eduardo and Dr. Elvira Ramirez
Einar and Analia Peters
Lorin and Sam Sholander
Lucas and Thea Ramirez
Casey and Monica Lavin
Parker and Lauren Lavin
Scott and Gail Ledbetter
Lindsey and Scott Sozio
Lucy and Charlie
Lori and Mark Watson
Beckie Manley and Tim Rude
We believe successful adoptions are possible with our science-backed approach, designed to improve over time. Our commitment to research and continued learning has positioned our organization to be internationally recognized for our work promoting stronger child and family welfare systems.